Dyess Air Force Base Fitness Center, Abilene Texas
Carlton Johnson - while employed at Medlin Construction Group
Located at Dyess AFB in Abilene Texas this Fitness Center was built to achieve a goal set forth by the command to have all personnel fit and ready for duty. The $13 million dollar facility consist of a Wellness Center, an Olympic size heated swimming pool, 2 full size basketball courts, 4 full racquetball courts and a 50 screen spin and exercise room. The fitness center also utilized part of the existing running track to complete a full 1.5 mile course.
Army Corp Of Engineers Architects
Completed in 2003







Troop Medical Clinic at Ft. Riley Kansas
Carlton Johnson - while employed at Medlin Construction Group
This facility was constructed for the Kansas City District of the Corp of Engineers for the 1st Infantry Division (Big Red 1) on Custer Hill at Ft. Riley. The facility includes individual treatment rooms for personal soldier care, and Eye Center and X-Ray facility. The total cost at completion was $6 Million dollars.
Army Corp of Engineers Architects
Completed in 2004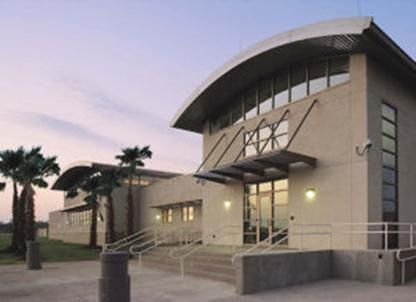 US Customs and Border Protection Station Eagle Pass, Texas
Carlton Johnson - while employed at WG Yates Construction
The Border Patrol Station at Eagle Pass, TX includes construction of a 300 agent Border Patrol Station on a 38.79 acre site consisting of approx. 50,000 S.F. The station includes office space, administrative space, exercise area and lockers, physical plant support and detention space. This project also includes kennels (slab and cages only), fenced areas, vehicle parking, a storm water retention area and landscaping.
HDR Architecture Inc.
Completed in 2007

US District Courthouse at Alpine, Texas
WG Yates Construction
The new U.S. courthouse in Alpine is a very particular response to the extraordinary quality of the local landscape, the harsh regional climate and the very specific mission of the courthouse occupants. The simplicity and solidity of the building take full account of the powerful Trans-Pecos terrain that predominates. Its materials, such as russet-colored, dry-stacked local sandstone link the building to the larger landscape and provide the high thermal mass appropriate for a climate with a high diurnal swing. All of the primary departments housed in the courthouse have a distinct entryway along an open, covered walkway that surrounds a central courtyard. A double-height rotunda connects lower floor functions with the courtroom and Judges chambers on the second floor.
Page Sutherland Page Architect
Completed in 2007


US District Courthouse at Plano, Texas
Carlton Johnson - while employed at WG Yates Construction

This federal courthouse accommodates five separate government tenants. The primary spaces include two new courtrooms, a grand jury hearing room, a secure detention holding cell area, and an office suite for the United States Marshal Service. Planning was complicated by strict security guidelines, including the requirement that the paths of circulation for the public, the prisoners and the judges must be completely separate, meeting only inside the two courtrooms. The building exterior was designed to be resistant to terrorist blast attacks. Security features of the building include decorated vehicle ram planters and ram walls, blast and bullet proof glass and a reinforced building envelope.
Page Sutherland Page Architect
Completed in 2008
for all inquiries please email us @
info@bravocon.com